Anger Management Classes
Anger Management offered at New York Behavioral Health
Anger management skills can be taught in an educational or therapeutic way depending on the format.  Typical settings offer anger management to 8-12 participants.  There is scientific support that anger management offered anywhere from 8 to 16 sessions can be helpful in reducing anger symptoms. This program can be applied to various forms of anger, whether it takes place at home, in the workplace, or on the road (road rage).
Anger Management Classes in New York
Space is limited in these anger management classes.
For Details or to schedule an intake, call our office or go to the Contact Us page.
The program is based on scientific evidence and helps participants learn cognitive behavioral (CBT) skills to change the intensity of anger, manage stress, assertively communicate, and problem solve.
The skills are taught according to SAMSHA Anger Management (Substance Abuse and Mental Health Services Administration) standards.
Classes are run by Clinical Psychologists, Social Workers, and Mental Health Counselors.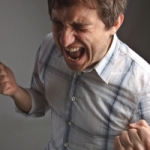 Anger Management Quotes
Anger is an acid that can do more harm to the vessel in which it is stored than to anything on which it is poured.
~~ Mark Twain
Scientific References for Anger Management and Anger Diagnosis
Fuller, J.R., DiGiuseppe, R., Fountain, T., O'Leary, S., Lang, C. (2010).  An open trial of a comprehensive anger treatment program on an outpatient sample anger. Journal of Behavioural and Cognitive Psychotherapy (2010), vol. 38(4), pp. 485-490.
Deffenbacher, J. L., Dahlen, E. R., Lynch, R. S., Morris, C. D. and Gowensmith, W. N. (2000). An application of Beck's cognitive therapy to general anger reduction. Cognitive Therapy and Research, 24, 689-698.
Deffenbacher, J. L., Filetti, L. B., Lynch, R. S., Dahlen, E. R. and Oetting, E. R. (2002). Cognitive-behavioral treatment of high anger drivers. Behaviour Research and Therapy, 40, 895-916.
Deffenbacher, J. L., Huff, M. E., Lynch, R. S., Oetting, E. R. and Salvatore, N. F. (2000). Characteristics and treatment of high-anger drivers. Journal of Counseling Psychology, 47, 5-17.
Fives, C. J., Kong, G., Fuller, J. R., DiGiuseppe, R.  (2006).  Aggression, anger, and irrational beliefs in adolescents.Cognitive Therapy & Research.
McDermut, W., Fuller, J.R., DiGiuseppe, R., Chelminski, I., Zimmerman, M. (2008). Trait Anger and Axis I Disorders: Implications for REBT. Journal of Rational Emotive Cognitive Behavior Therapy.